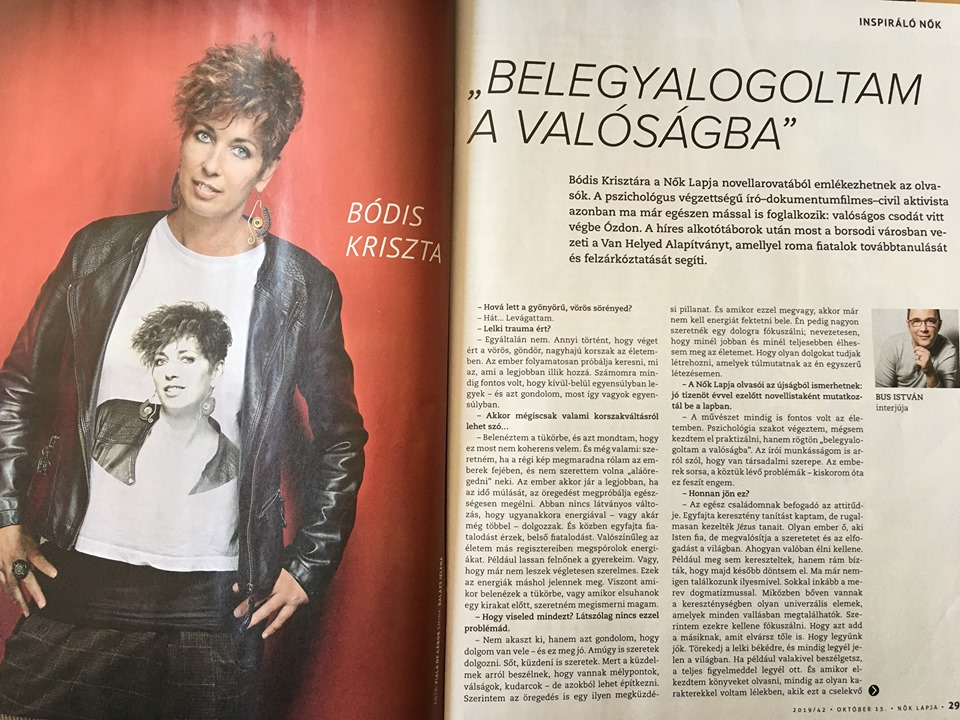 István Bús from Nők Lapja (Women's Magazine) made an interview with the leader of our Studio. Please read:
Readers may remember Kriszta Bódis from the Nők Lapja short story corner. The graduated psychoologist turned writer-documentarist-civil activist has been long since working on an entirely different project: she made an actual miracle in Ózd. After the famous creative camps, she is leading the You Belong! - You Belong! Foundation in the town in Borsod through which she helps Roma students in studying further and catching up.
– What happened to your beautiful red mane?
– Well... I had a haircut.
– Did you have some kind of psychological trauma?
– Not at all. The only thing that happened is that my red, curly, long-haired era of my life has ended. A person is always searching for what fits them the best. For me it was always important to be in harmony inside-outside - and I think that right now, this is my harmony.
– Then it IS about some kind of change of periods...
– I looked in the mirror and said that right now this isn't coherent with me. And another thing: I would like that the old image of me would stay in people's mind and I didn't want to "get old" because of that. A person is the most successful if they try to deal with the passing of time, growing old in a healthy way. There isn't a big change in how I work - with the same, or even more energy. And doing it, I feel a kind of rejuvenation: an inner rejuvenation. Probably I'm saving energy from other parts of my life. For example: my children are almost adults. Or, I will probably not fall extremely in love again. These energies appear in different ways. In turn, when I look into the mirror or when I pass by a shopwindow, I would like to recognize myself.
Continued in the 2019 October 15 edition of Nők Lapja